The KijkBijMij App was part of the general strategy to transform the ailing retailer Kijkshop into a Platform.
This IOS and Android app facilitated the Kijkshop community to make purchases where advice could be obtained in advance from previous buyers of a certain product via live video. Advice that led to a purchase was rewarded with a commission.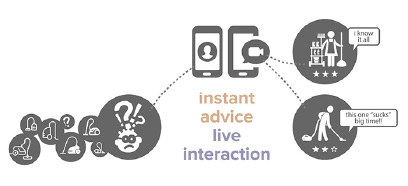 A commonly used feature of the App was the barcode scanner. Previously, prices were shown in the store on paper price tags. Price adjustments were therefore a slow and costly process. By providing each product with a clear and scannable barcode, the consumer could use the barcode scanner to retrieve the price and – if desired – place the product directly in their shopping cart.
Within 6 weeks, more than 100,000 apps had been downloaded and 60% of the total turnover was realised via the KijkBijMij App.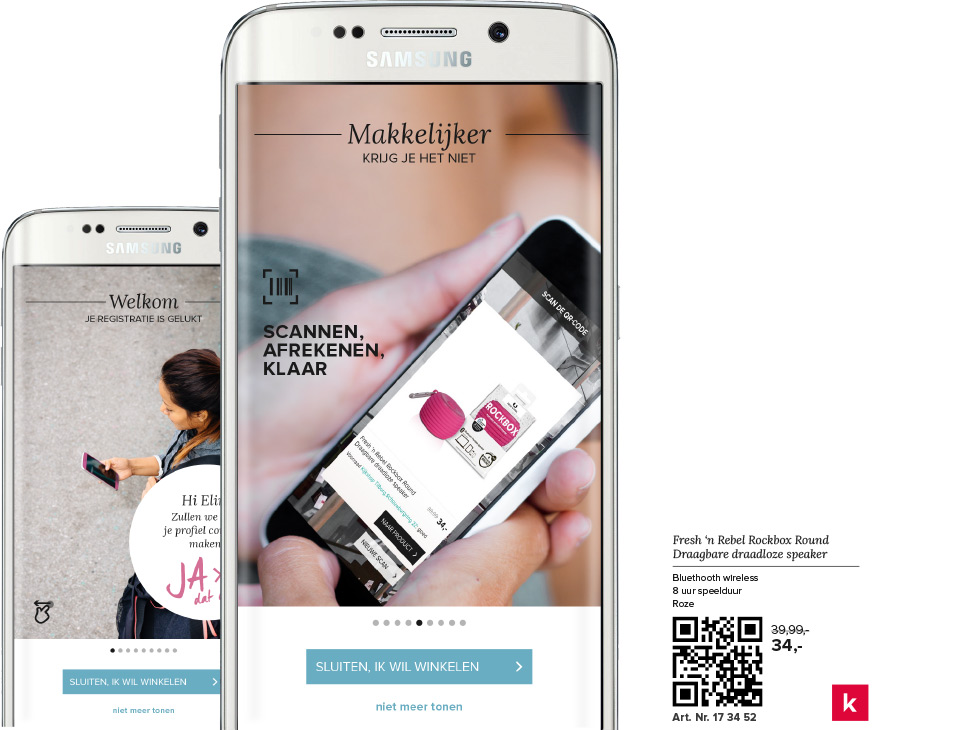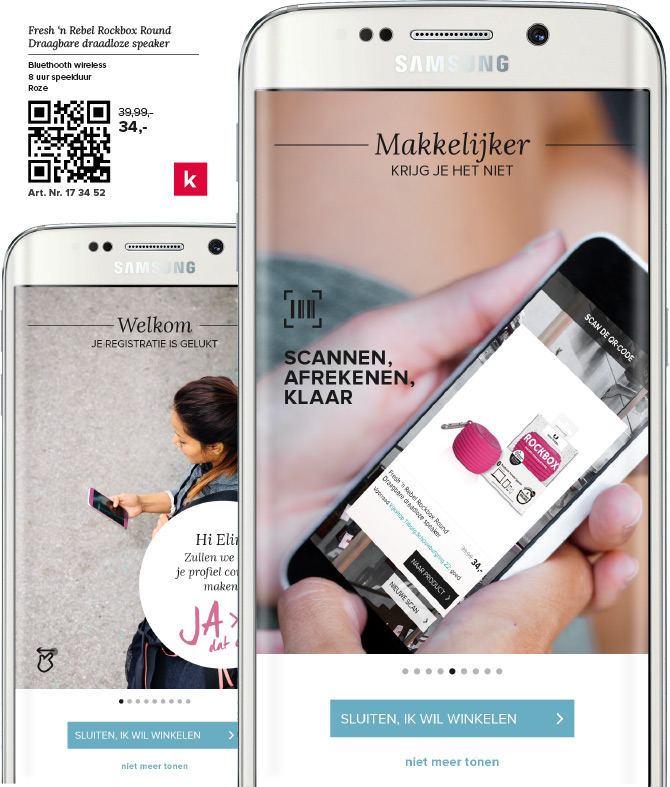 Responsible for:
Strategy, concept & design
app development
sales activation
project support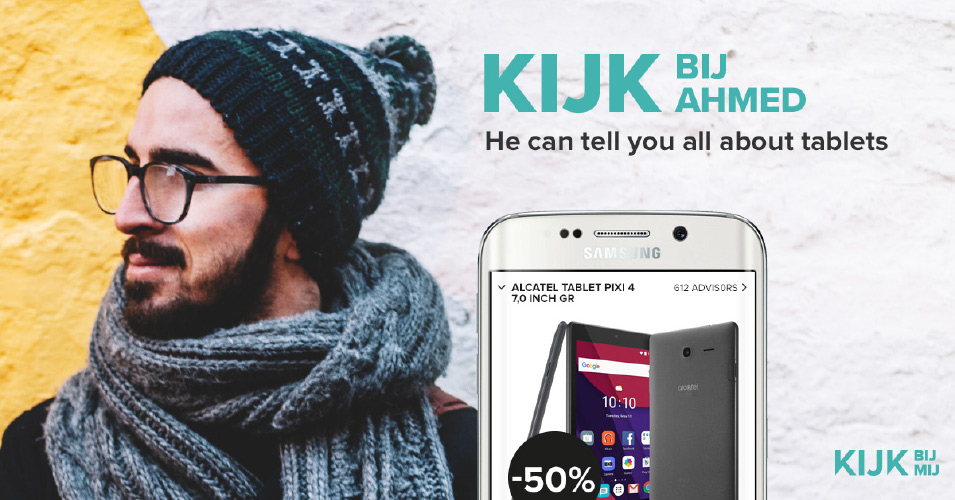 How do you get a lot of downloads for your App?
When you develop an app, you want a lot of people to download it and start using it. Depending on the size of the target group, there are different ways to stimulate the number of downloads.
Basically, there must be a need for your app, but even if there is little need, you can still generate that need.
There are free and paid ways to get many app downloads. Not all ways work for everyone in every situation. Below are the most common ways to ensure a successful app introduction.
The 7 most common ways to get free app downloads are:
A good App store description: Just like with Search Engine Optimisation (SEO), your description and way of presentation in the App stores is important. Be clear and tell what the advantage of your app is.
Engage your network as ambassadors: Ask all your employees, business partners, friends, and acquaintances to download the app. Also, ask if they would like to ask other people in their network to download the app and ask if everyone writes positive reviews.
Use Social media: Share your new App several times on all social media channels and ask your network to do the same.
Create a business Google account: A business Google account allows you to be found more quickly and people can leave reviews. This counts in your App ranking in the Google App store.
Write a press release. Note that your press release must have newsworthiness
Blog about your App: You can use your own site or the free platform medium, but you can also ask other sites if you can post a blog about your App on their site.
Ask for online reviews at review sites: There are hundreds of sites where you can offer your App for free for a review. Many of them will later ask for a sponsored content promotion, but some will just write about your App for free. (See below for a list of free review sites)
Free app review sites
How can you get a lot of App downloaded by paying?
There are many providers that promise you thousands if not hundreds of thousands of app downloads. If something is too good to be true, don't believe in it.
All the work you put into your app could have been for nothing if you start doing business with the wrong partner. That doesn't mean you can't pay for promotion. Just watch out for malicious practices.
Three widely used and safe ways to get a lot of paid App downloads.
Affiliate networks: Subscribe to an Affiliate network and let Affiliate Partners sell your App. You pay a high commission but it can be worth it.
Social Media Advertisements: If you know what an App download will yield in the future, you can calculate what a Social Media ad may cost. With the right Social Media ad strategy you will quickly earn back your investment.
Influencers: Most Social Media page owners with a lot of real visitors and followers know they can be paid to promote something. There are many platforms that have an overview of influencers who want to promote your App for a small fee.
TIP: All three ways cost money and if you don't have the right knowledge how to do this you can always hire a professional.
The two most dangerous ways to promote your App.
One of the most dangerous ways to promote your app is to respond to proposals from fraudulent parties. Usually, you can recognize them by promises that are too good to be true.
Pay Per Review: There is a big market for companies that offer to give a lot of App review, so you will rank high in the App stores. Sometimes they also say that the reviews are from real people. Don't believe this! Even though they might be real people, App stores are not crazy. They will see it and when you have paid you will get a fine from the App stores and maybe even a ban!
Pay by download: There is also a big market where companies offer to let "real people" download your app for a very low price. Don't believe this! Again, even if they are real people, App Stores are not crazy. They will see it and when you have paid you will get a fine from the App Stores and maybe even a ban!